Arrowstar™ PC-2000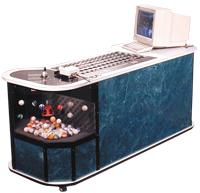 Arrowstar™PC-2000:
Console Only: #451400
Size 72"L x 27"W x 43"H
Shipping Wt: 306 lbs.

The ultimate user-friendly personal computer-based system. It offers operators ease of set up and use, vivid and detailed color graphics, expanded programming options and upgrade capabilities. The system's advanced software offers touch-screen operation with easy to follow menus and quick reference pop-up screens!
The Arrowstar™ PC-2000 is the technologically advanced system that remains simple to operate!
Unique Features of this System:
Verifies Capitol's six UniMax® Series, 1-54,000 Series. 1-36,000 Dab-All™ Series, and 1-24,000 Mini 75
Bingo paper serial number tracking
Two hall monitor video outputs
Hall advertising capabilities
OPERATOR'S DISPLAY EXAMPLES: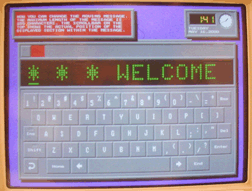 Moving Message Set-up
Acknowledge players' birthdays
Advertise new Popp-Opens
Display winners' names
Verification Display
Automatic switching between ball camera and bingo face verification
Winning game pattern highlighted, last ball called -- flashes
Full color display of potential winning bingo faces
Designer Series Standard Console Laminates
| | | |
| --- | --- | --- |
| | | |
| Blue Pavia (Gloss Finish) (BL) | Black Quasar (Laquer Finish) (BK) | Nile Dorian Green (Polished Finish) (GN) |
Note: When ordering laminate products, the abbreviations shown above may be used for specifying color choices.