Statesman Video Designer™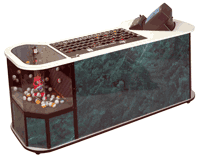 Statesman Video Designer Console: #451320
Size: 72"L x 27"W x 40"H
Shipping Wt.: 296 lbs.
Arrow's Statesman Bingo System is now better than ever!
The Statesman Video Designer™ System is technically advanced, yet simple to program and operate. It, like our original Statesman system, has proven to be the system of choice with game operators.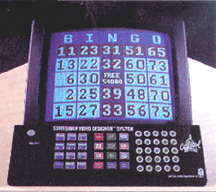 Features of the System:
Verifies all Capitol® bingo paper including six UniMax® Series, 1-54,000, 1-36,000 Dab-All™ Series, I-24K Mini 75, and the NEW 1-3,000 Dual Dab Series
Ergonomically-designed console with panels in a variety of textures, colors and patterns
13" color operator's monitor
Full color monitor output for verification
Improved programmable session capability
Easier programmability of complex patterns utilizing the Capitol® exclusive modular game pattern building block technique™
Soft-touch Elastomer keypad
40 complex programmable game patterns each with up to 400 possible winning combinations
Real time digital clock display
Password protection system
Handsfree™ Statesman System (Optional)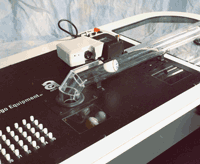 Add more integrity and speed to your Statesman Video Designer!
Our new Handsfree™ System provides added security and speed of calling to the Statesman Video Designer system by eliminating any ball handling by the operator. Each ball will come up the tube and be stopped in front of the camera, which immediately displays the ball on all hall monitors. Numbers are easily read regardless of the position in which the ball stops in front of the camera.
The unit may be purchased as a console or it may be retrofitted onto your existing Statesman Video Designer Console.